Happiness Edge Radio

Is On The Air!
Business experts and Positive Psychology science unite to create The Fulfilling Happiness Edge. Each show acts as a self-improvement and entrepreneurial mini seminar. TFHE features short interviews with best-selling entrepreneurs with a combined net worth of over $300 million and other educational and outrageous segments. Happiness, negotiation, time management, coaching, speaking, persuasion and other small business and life skills are covered.
In celebration of the upcoming launch of Happiness Edge Radio, sign up to accept a sample chapter of Destiny Defining Decisions. The book is based on the interviews that will feature on the show.
To subscribe: CLICK ON THIS ITUNES LINK NOW!
For recordings and full show notes of each show, click this link.
Weekly Guest Expert Appearance Schedule

Happiness Movement Maverick
Jenn Lim, CEO of Delivering Happiness, the organization inspired by the #1 New York Times best-selling book 'Delivering Happiness' by Zappo's founder and entrepreneur Tony Hsieh. Jenn also played a vital role in the creation and authorship of the book and the massive 'happiness movement' that has resulted from it.

Natural Negotiator
Professor Stuart Diamond, New York Times best-selling author of 'Getting More'. The Wall Street Journal FINS blog called it the best book to read for your career in 2011. The Wharton School Professor and Pulitzer Prize winning journalist has taught negotiation to over 30,000 people in 45 countries including executives from 51 of the Global 100 companies.

Exceptional Executive Coach
Dr Marshall Goldsmith, one of Forbes 5 most respected executive coaches and multi-million selling author of Mojo and What Got You Here Won't Get You There – a Wall Street Journal #1 business book and winner of business book of the year.

Sensational Speaker
Dr. Tony Alessandra is a prolific author with 27 books translated into over 50 foreign language editions, including the newly revised, best-selling The New Art of Managing People. He is a a graduate professor of marketing, entrepreneur, business author, and hall-of-fame keynote speaker.

Motivational Master
Steve Chandler is the best-selling author of 100 Ways to Motivate Yourself and 30 other books that have been translated into over 25 languages. His personal success coaching, public speaking and business consulting have been used by CEOs, top professionals, major universities, and over 30 Fortune 500 companies.

Fearless Freelancer
Eve Adamson, 5 times New York Times best-selling author, freelance writer and celebrity ghostwriter who has written or co-authored over 65 books on self-development, psychology, stress management, zen, cooking, holistic health and more.

Classic Books Connoisseur
Tom Butler-Bowdon is the the best-selling author of 50 Self-Help Classics, the first guide to the personal development literature. This book was followed by 50 Success Classics, 50 Spiritual Classics, 50 Psychology Classics, and 50 Prosperity Classics. The series has been published in 21 languages and is sold in over 30 countries.

Bold Business Builder
Richard Koch, New ventures investor and international best-selling author of The 80/20 principle which has sold more than 1 million copies and been translated into 31 languages. His most recent title is called The 80/20 Manager.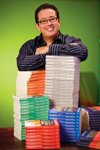 Acclaimed Aussie Author
Andrew Griffiths is Australia's number #1 best-selling small business author with 11 hugely successful books sold in 50 countries all over the world. His latest book, 'The Me Myth', is his first personal growth book and has won acclaim as one of the most inspirational self improvement books ever written by an Australian author.

Passionate Persuader
John G. Miller, Organizational Personal Accountability Specialist and best-selling author of QBQ! The Question Behind The Question, Flipping the Switch and Outstanding!

Learned Leader
Randy Komisar is the author of the best-selling The Monk and the Riddle. He is a founding director of TiVo, was a co-founder of Claris Corporation, served as CEO for LucasArts Entertainment and Crystal Dynamics, and acted as a "virtual CEO" for such companies as WebTV and GlobalGiving.